Programs and activities
1. Col. Mojib Bravery and Humanitarian Service Awards
Colonel Mojib Bravery and Humanitarian Service Award (CMBHSA)' is one of the many activities of Colonel Mojib Trust - that duly justify the objectives of the foundation, till date.
CMBHSA has been designed to honour people from all walks of life and all sections of society who have carried out a deed of bravery, extraordinary acts of courage and humanitarian services this country has seen with "an effort to save human life involving personal risk".
The award consists of a medal and Tk. 40,000 (taka forty thousand) only, prize money.
The CMBHSA Selection Panel and Procedures
Anyone is legible to nominate a person for receiving the 'Colonel Mojib Bravery and Humanitarian Service Award'. The nomination needs to cite an act of bravery and /or extraordinary humanitarian services by a Bangladeshi citizen either in Bangladesh or in any foreign land. The recipient of CMBHSA might also be a person even if he/she is not a Bangladeshi citizen but has exhibited either an act of bravery or humanitarian service in Bangladesh or outside Bangladesh, which merits recognition as an act in the interest of Bangladesh.
The awards might be declared posthumously.
The Panel: Colonel Mojib Trust has formed a 10-member Committee representative of different sectors across Bangladesh. The Committee has the authority to receive, review and research the nominations - prior to considering them for respective awards. The Committee then makes recommendations for the awards which are passed on directly to the Chairperson of the Trust. Generally, an announcement is made each year in March. After the announcement of awards, recipients including the person who nominated them are invited to the Award Giving Ceremony for receiving their awards.
Award Recipients in 2013
Colonel Mojib Trust is honoured to be able to recognize and acknowledge country's heroes who have either risked their lives to safe others or have made a huge difference in the community through their extraordinary humanitarian services.
In recognition of their bravery and humanitarian services displayed in the rescue operations during the Rana Plaza collapse in April 2013 - country's biggest industrial tragedy, the Trust presented Colonel Mojib Bravery and Humanitarian Services Awards to the following 15 individuals and 5 organizations.
The individual recipients of the Awards are:
| | |
| --- | --- |
| | Shaheed Izazuddin Kaikobad |
| | Ashraful Islam |
| | Mohammad Ali Khan |
| | Mohd. Mahmudul Hasan |
| | Jointo Biswas Shuvo |
| | Rover Mohd. Risul Islam |
| | Rover Rowshan Ara Mishu |
| | Mohammad Obaidullah |
| | Mohammad Lalon |
| | Iresh Zaker |
| | Md. Ariful Islam |
| | Fatima Faria Anika |
| | Mohd Raihan Sagor |
| | Khalilur Rahman |
| | Ashik Elahi |
The five recipient organizations are: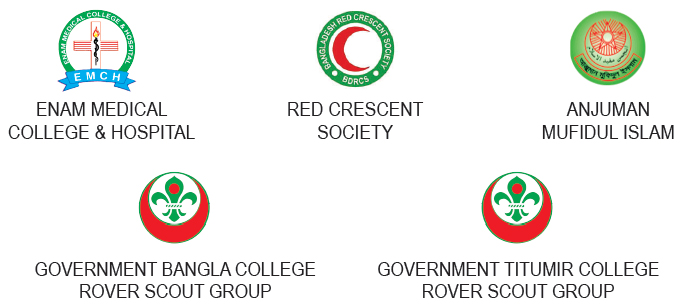 For further information please visit the following face book page.
https://www.facebook.com/pages/Colonel-Mojib-Bravery-and-Humanitarian-Service-Award/152339444975408
The Jury board:
| | |
| --- | --- |
| | Syed Badrul Ahsan, Executive Editor, The Daily Star, Dhaka, Bangladesh |
| | Brig General Solaiman Ahmed ndc, psc (Retd), former Managing Director, Hotels International Limited (Hotel Sonargaon), Dhaka, Bangladesh |
| | Kazi Ali Reza , Officer in-charge, United Nations Information Center (UNIC), Dhaka, Bangladesh |
| | Marina Yasmin, Head of Press & Information Section at U.S. Department of State, Dhaka, Bangladesh |
| | Ahmed Saifuddin Chowdhury, Managing Director, BGIC, Dhaka, Bangladesh |
| | Anwar Rahim Chowdhury, Chairman, Chemieworld Ltd., Dhaka, Bangladesh |
| | Hasibur Rahman, Executive Director, MRDI, Dhaka, Bangladesh |
| | M Mohibuz Zaman , Chief Operating Officer of ACI Ltd., Dhaka, Bangladesh |
| | Sangita Ahmed, President, Bangladesh Women Chamber of Commerce & Industry; Director, Janata Bank Ltd., Dhaka, Bangladesh |
2. Educational Institutions Capacity Building Project:
a. Trust's support enabled Rokeya Memorial Girl High School in Dulalpur, Narsigde to open commerce/business study in the school. This has created an opportunity for students to pursue their study in business and commerce. In 2012, eight girl students (in grade 9) are enrolled in business studies. Under its first phase, the Trust will continue supporting the school until 2016.

b. To meet the unmet need of the students of The Abdur Razzak College in Palong thanaa, Shariatpur , the trust has donated a new computer including a printer and one IPS to the college. This has created an opportunity to 600 students to translate their theoretical knowledge into practice and enhance their skills and confidence. Through this support the students, for the first time, got exposed to a computer and able to learn basic computer skills. Mr. Mohibur Rahman Babu, one of the trustees of Col. Mojib Trust handed over the computer to the college authority on Wednesday 3 April 2013.
The college has named its library after Shaheed Colonel Mojibul Haque. The Trust provided equipment for the Colonel Mojib Library.
3. Scholarship project :
Under trust's scholarship assistance 10 students of 5 schools have been provided with financial assistance to continue their studies.
4. Touching the Heart of Bangladesh
- Remembering the Martyred Military officers:
a. The Cultural Event: Every year since 2010 the trust shows its respect and remembers the military heroes who sacrifice their lives on 25 and 26 February 2009. Peoples from all walks of life including civil society members, social elites, cultural celebrities, students, teachers, friends and well-wishers of the martyred officers, and their relatives have been participating and attending this annual event at the Robindra Sharabar, Dhanmandi, Dhaka.
After the incident, on 25 February 2010, for the first time, the Trust observed the day in a befitting manner. Through a discussion program, video documentary and a cultural event our martyred heroes are remembered every year. A good number of cultural organizations including media celebrities facilitate and participate in the events.
b. Special Art Exhibition in Dhaka – 25 – 28 February 2011
In observance of the Martyrs Day to commemorate the 2nd year of the BDR carnage the Trust in partnership with the Gallery Chitrak and the Dhaka Art Center organized this exhibition 'Buk Tar Bangladeshers Hridoy' (Bangladesh – Touching the Heart). Thirty-five leading painters of the country have participated in the exhibition to pay their tribute to our fallen heroes who embraced martyrdom for our country on 25 and 26 February 2009.
Consolidating peace through instilling patriotism amongst the youth was the major theme that the painters promoted through the workshop and the exhibition. We are grateful to our supporters, friends, patrons, Gallery Chitrak, Dhaka Art Center and the big-hearted following artists for joining us in remembering our fallen heroes.


5. Sraddhwanjali – Illustrated Book on BDR Martyrs
The very first step that Colonel MojibTrust took for making the martyrs immortal – in people's hearts, was taking up a cumbersome job of publishing an illustrated book named 'Sraddhwanjali' [meaning the Tribute]. The book was an extensive record of all those fallen heroes highlighting their personal and professional lives. Bringing out such a book was not an easy task……gathering authentic information, photos and endorsements……but the Trust made it possible. The book was formally launched on 23 November 2009 at BRAC Inn Centre in a low key ceremony. A senior Editor attending the launching programme wrote a post-editorial where he said, " And in the voice of the brother of a martyr, the brother who enlightened that sad gathering on the principles and purposes of the Colonel Mojib Trust, was a raw wound that nevertheless was reflective of pride in the heroism of the dead ". [Anyone keen to read the entire article may do so at the following link: http://archive.thedailystar.net/newDesign/news-details.php?nid=115407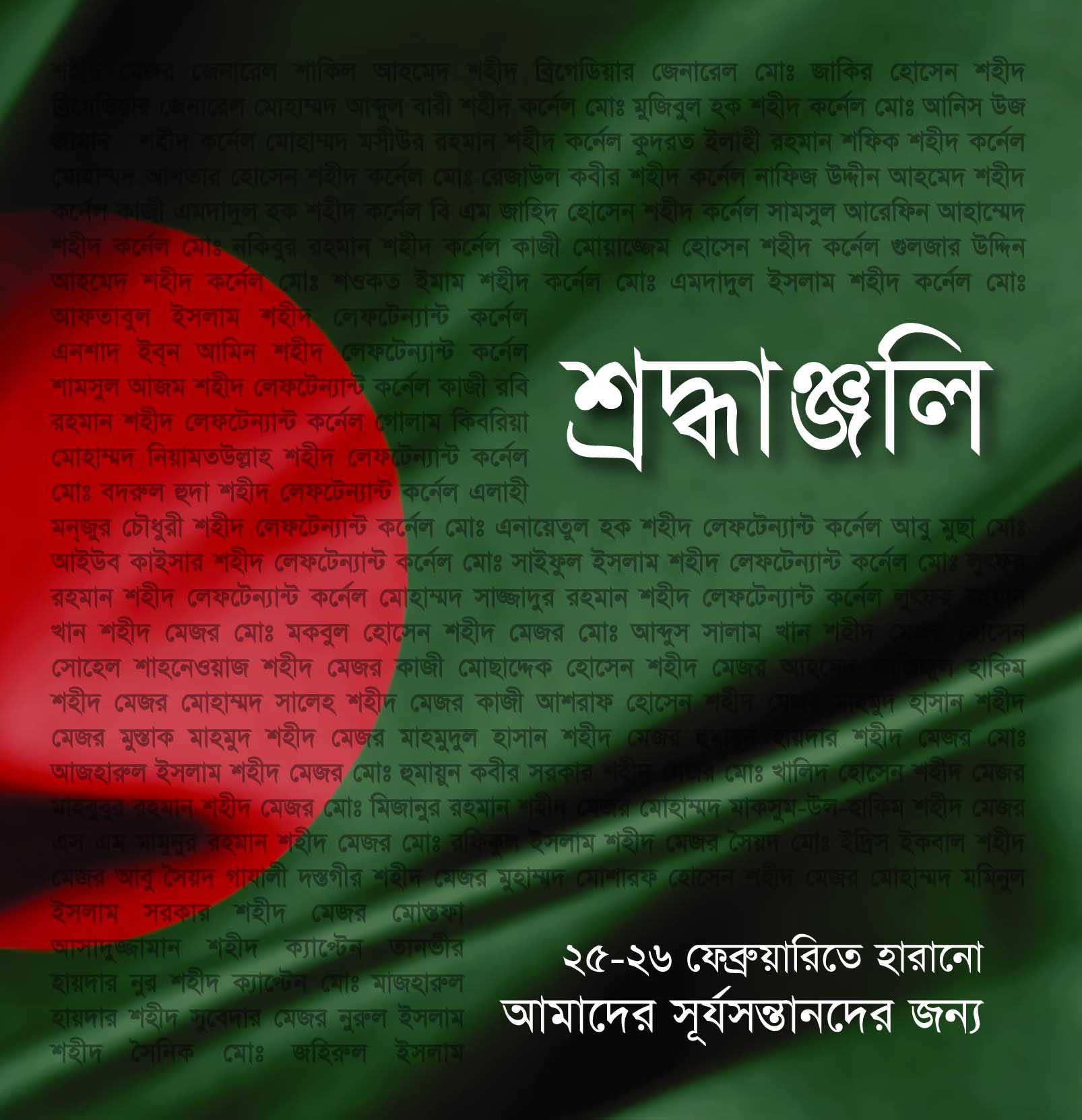 The book is a massive record – with brief life sketches and photos of all those who lost their precious lives in the senseless killings on 25-26 February 2009. It was an effort from the Trust members to project those heroes as human beings….that they had family lives besides professional commitments. They had emotions, they had attachments ….as sons, husbands, fathers, brothers, friends, uncles and so on. It can never be denied that they died a hero's death…physically, they will never come back but spiritually…..they will be around, in all their martial spirit and in all the agony of sudden, swift death. The book will make everyone feel the truth in our bones. We could recreate their images, the contours of their smiles, the sounds of their laughter, the elegy in their dying eyes as we look around and glance at the women and children they loved in life. These were women whose tears will flow incessantly as they did in February as we all heard their hearts crack because their husbands' hearts had been forced to a stop by the murderers. However, t hese heroes have left behind a legacy – of patriotism, of how to love our country and serve the people unselfishly.
6. Supporting Savar Tragedy:
a . The Trust has extended its support to the wounded persons/families and made commitments to provide financial support for next 2 years, to the children who have lost their parents in the tragedy.
b. The Trust recognized and awarded 100 individual volunteers who through an outstanding display of courage and altruism saved over 2,400 people from inside the ruins of Rana Plaza - country's biggest industrial catastrophe in recent history. The Trust organised a number of events in Dhaka not only to recognize theirastounding humanitarian services during the rescue operations but also to award, publicise and inspire others for standing by a fellow being at the time of crisis.
7. Other Community Activities:
a. Distribution of winterclothing : Every year during the winter season the Trust distributes warm clothes among the poor people of different cold-hit districts. Last year the Trust helped the poor people of four districts of northern Bangladesh to prevent them from extreme cold.