IN REMEMBRANCE OF BDR TRAGEDY
Tearful adieu
Syeda Nazneed Ferdousi
WE say life moves on and it is only wiser to look forward. But is there anyone who can deny the power of memory? In fact, what we call the present is given shape by an accumulation of the past.
Even unpleasant memories are revisited – sometimes intentionally -- to reimagine if things could have been said or done differently, if we can 'undo' the past. Alas, little do we realise the harsh reality – "Time is like a river. You cannot touch the same water twice because the flow that has passed will never pass again." Read more...
Colonel Mojib Bravery and Humanitarian Service Awards
'Colonel Mojib Bravery and Humanitarian Service Award (CMBHSA)' has been designed to honour people from all walks of life and all sections of society who have carried out a deed of bravery, extraordinary acts of courage and humanitarian services this country has seen with "an effort to save human life involving personal risk".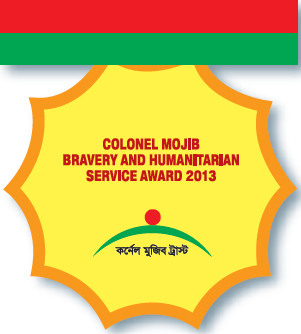 "Cowards die many times before their deaths;
The valiant never taste of death but once.
Of all the wonders that I yet have heard,
It seems to me most strange that men should fear;
Seeing that death, a necessary end,
Will come when it will come." ...
William Shakespeare from 'Julius Caeser'
True – death is a necessary end of life and will come when it will come. But what if some deaths are untimely and leave the black mark in history for its brutality and irrationality? Bangladesh history will never forget the rebel leaders who allegedly led the massacre during the BDR mutiny in Pilkhana on 25-26 February 2009 that killed 74 lives including 57 valiant army officers – on duty. They died a hero's death and will be remembered with honour and dignity…….forever!
The family members of one such hero - Shaheed Colonel M. Mojibul Hoque , reigned on their grief and decided to move forward……celebrate the hero's allegiance to the organisation he was serving, commitment to the responsibility he was holding and unconditional love for the country he belonged to. Their endeavour was aimed at making Colonel Mojib's departed soul immortal by paying tributes with their principled activities year on and on. They thought of sharing the spotlight in poignant remembrances and honouring those who lost their lives in the massacre. This is how they legally and formally set up the Colonel Mojib Trust .
Remembering Col. Mojibul Hoque and the brothers Martyrs
Surprisingly, four years have swiftly passed since the death of your band of brothers. In these 48 months your silences ringed out loud and clear in our lives. I know that in line with the laws of existence, we will hear you speak no more. We may try but won't be able to comprehend what went through your minds that fateful day and night. Did you notice the sun shining, the birds chirping either in alarm or silent and frightened away by the gunfire and explosions of the handful of cowards methodically exterminating the brave sentinels of my beloved motherland?